Join OCD SoCal for our next book club read on Saturday, February 17 at 11AM (PST), Face to Face with Body Dysmorphic Disorder. Purchase the book online, read it and get your questions ready for Mr. Arie Winograd. He will read passages of his book and answer your questions about Body Dysmorphic Disorder. To register, please email info@ocdsocal.org and we will send you the call in information.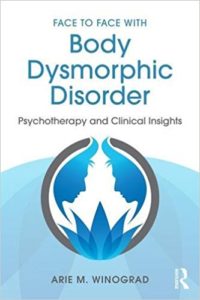 In "Face to Face with Body Dysmorphic Disorder" BDD expert Arie Winograd shares his unique insights as a psychotherapist who has spent thousands of hours treating patients with this uniquely complex disorder. This groundbreaking new text offers a new perspective designed to help practitioners truly understand the emotional inner-workings of the BDD client, and in turn, how to genuinely connect with them in order to facilitate recovery. Also included are two chapters written by former BDD sufferers chronicling their personal struggles with the disorder.
Arie Winograd, M.A., L.M.F.T. is the founder and director of the Los Angeles BDD & Body Image Clinic.